Book Fair 2024
South London books will be attending the exquisite Conway Hall surounded by Bloombury unique historical buildinding and local amenities, Saturday 14th Sept, past Book Fair at Conway Hall has been very enjoyable day lots of independent Publishers, with new selection of new and old favourites books, we will be joining in with the on the day discount £8 each or two for £10 and thoroughly agree with what we found on their website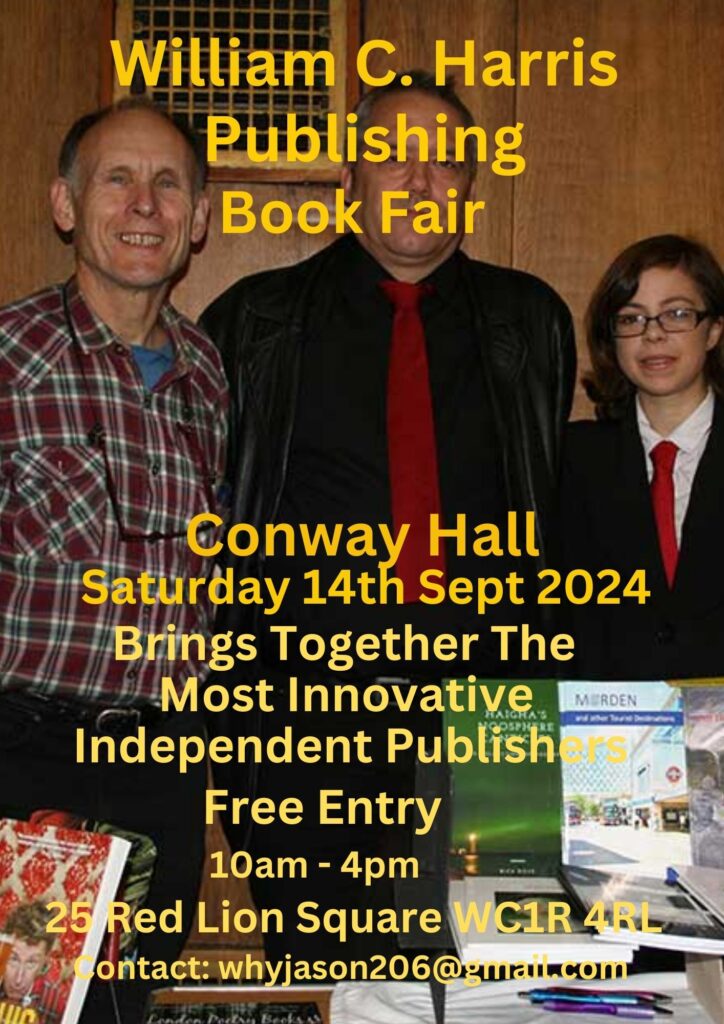 William C. Harris Publishing
Book Fair 2024.
Book Fair 2024 Now covid is over I was looking forward to the return of the Free Verse Poetry Book Fair contacting Julia i was told not having one 2024, I thought wouldn't it be nice to have all the publishers and bookseller back in the heart of bloombury the wonderful Conway hall. A fabulous day of all kind of publishers, and the public has the opportunity to talk to us all,
Brockway Room
Thought out the day there will be publisher authors and talks on all kinds of topic our books discounted £8. Each or two for £10. Set in incredible environment with lots of local amenities
Free Entry to public Conway Hall 10am – 4 pm and evening show set in the Pleasure Gardens at the Tea House Theatre an eveing of open mic from 7pm
Next year is our 10th year in publishing to celebrate i am inviting all the publishers and bookseller back to the fantantic Conway Hall Saturday 14th September for our first of many Book Fair
2024 will signal 10 years of William Cornelius Harris Publishing.
In this last decade we have published 'Hidden London Poets', talented writers whose work covers a range of human emotion and who, we believe, deserve to be in general circulation.
You will find our titles here at London Poetry Books:
To mark this 10th year of publishing we invite you to be a part of our first book fair to be held at Conway Hall.
Publishers Tables: 
Half table £45
Full table £65
Early booking discount: end November 2023
Half table £35.
Full table £55.
we are non-profit
 please note publishers tables and bookseller tables can only be booked from Jason why
Booking and further enquiries please contacts
and
JasonWhy206@gmail.com